Weekly Newsletter `September 5, 2019
VICE ADMIRAL THOMAS J. MOORE Commander, Naval Sea Systems Command
A second-generation naval officer, Vice Adm. Thomas Moore graduated from the United States Naval Academy in 1981 with a Bachelor of Science in Math/Operations Analysis. He also holds a degree in information systems management from George Washington University and a Master of Science and an engineer's degree in Nuclear Engineering from the Massachusetts Institute of Technology.
Lunch Menu - September 5, 2019
Southwest Caesar ~Chicken Enchiladas w/ Green Chili Sauce Refried Beans & Spanish rice
Special Menu Requests For members and guests with dietary restrictions, alternate meals are available, but they must be ordered by no later than 11:30 am on Wednesday Sept 4, 2019
Please select your choice of Fish Plate, Fruit Plate, Chef Salad, or Vegetable Plate
President's Corner ~ August 29, 2019
District Governor John Vietmeier and Club 11's Michele Goad provided the encouragement and example of Rotary's Call to Action at last week's meeting.
DG John acknowledged Club 11's efforts in its being awarded the President's Citation and following through on Rotary's goal to "...Connect the World."
Michele shared her experience with this summer's RYLA Academy for high school students. This is a leadership curriculum to bring service projects to a successful completion; projects that address one of Rotary's six Areas of Focus. RYLA also introduces youths to Rotary and its mission.
John and Michele challenged Rotarians to engage which is every bit as important as attendance.
One way would be to attend the District 6060 Conference in Washington, Missouri on September 20 & 21. You will be able to meet and socialize with Rotarians from other Clubs in the district; and, have the opportunity to learn about others Club's service projects and fundraisers.
I will be attending along with Rick Tinucci to officially represent our Club. All members of Club 11 are welcome to attend. If you are interested, contact me or go to the DACdb website (www.dacdb.com).
Scribe Report August 29, 2019
President
Bob Garagiola rang the
bell slightly before noon anxious to get to the day's program. Following the Pledge of Allegiance and Four
Way Test, Past President and Past District Governor Rose Cooper provided an emotional invocation on the work of District Governors.
Past President and Past District Governor
Rick Tinucci got up next to be our song leader but had to vamp for a few minutes on the history of singing at Rotary when the Power Point had to be
rebooted to the screens. With the words of Diane Tinucci and an assist from Past President Beth Russell, Rick sang his version of "King of the Clubs" to the tune of King of the Road.
Prior to settling into lunch, Bob G. thanked Dan Conway for his work arranging our off-site program at the National Blue Museum. A good time was had by all!
Following our lunch break, Bob G. announced Past President Bob Sherrill was being awarded the Presidential Citation.
Bob S. jumped to the podium to thank the entire club for making it happen. AND, as a reminder to the
club, this is our third year getting the citation after Past President and Past Assistant District Governor Richard Losciale and Beth Russell's years. SO, Bob G. let's keep this train running and go for #4!
Great Fellowship.....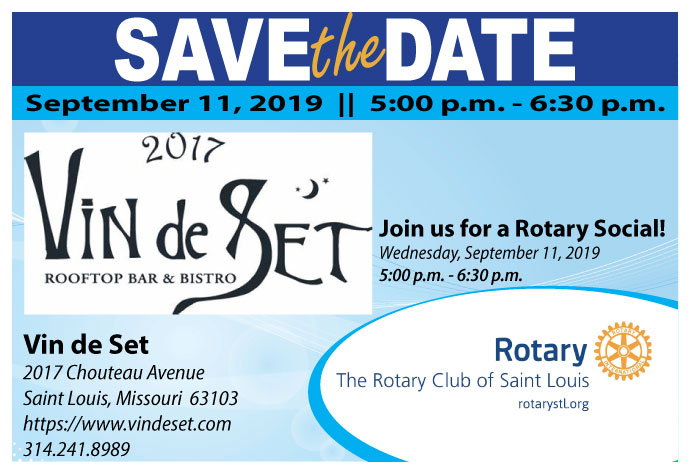 Dan Peterson - September 6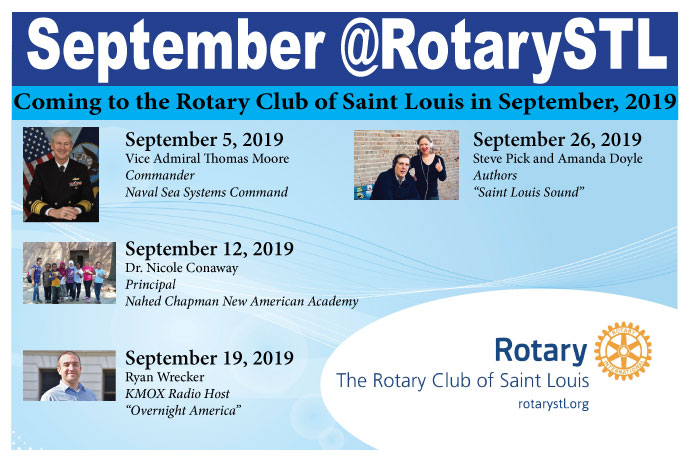 Register for the District Conference here - rotary6060.org
Special Invite to MAC Tank 9-25-19
Dear fellow Rotarian You are invited to attend the Missouri Athletic Club's first ever "MAC Tank," a complimentary event sponsored by Polsinelli on Wednesday, September 25th from 5:00 - 8:30 pm. MAC Tank is a brand-new initiative and is like 'Shark Tank' focusing on—you guessed it—the startup community here in St. Louis! We have selected five (5) companies that we have drawn from the St. Louis startup ecosystem, which …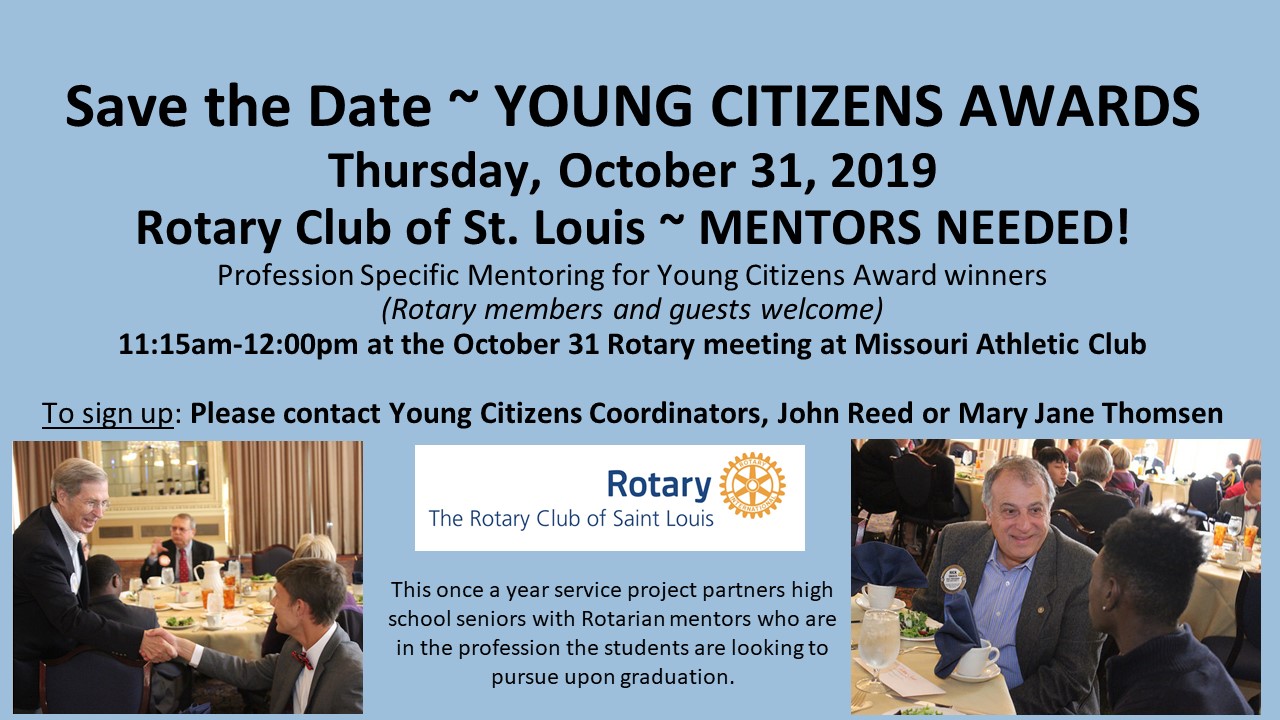 July 1, 2019 - June 30, 2020