March 24, 2022 Pepperbox Edition
TOP STORY ~

Thursday, March 24, 2022
Wrestling at the Chase | Ed Wheatley, Author
"Ed Wheatley is an award winning author, film producer, and sports historian. His works have received numerous accolades and awards including Sports Collectors Digest selection as the best book published on baseball in 2017...


Attend the St. Louis Rotary Club Meeting on Thursday, March 24, 2022
Join us In-Person at the Missouri Athletic Club downtown or via Zoom on Thursday, March 24, 2022 from 12 pm - 1 pm.


St Louis Rotary Lunch Menu ~ March 24, 2022
Chicken Spedini w/ Lemon cream sauce...
Order by 11:30 AM on Wednesday!


St. Louis Rotary Club Program Introducer & Invocator | March 24, 2022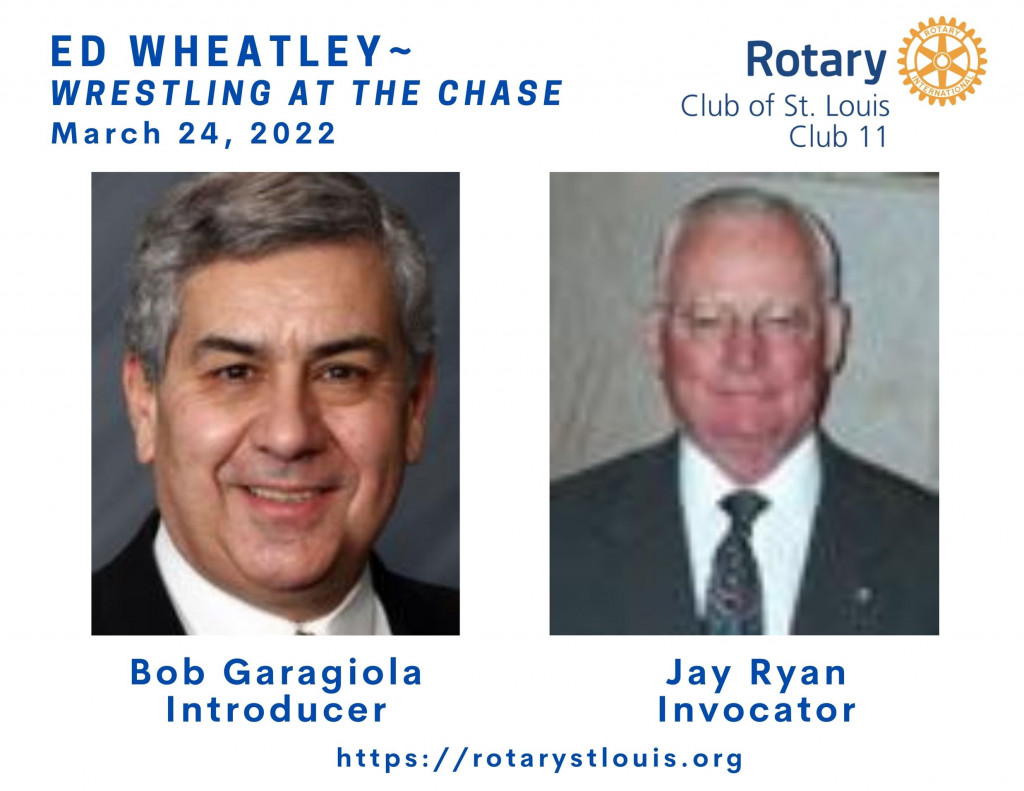 The St. Louis Rotary Club meeting on March 24, 2022 is IN PERSON and via ZOOM Read more
Marygrove | Bloom 2022 & A Bright Future
This story is so heart warming that I believe our club should view this. Marygrove is one of our Grant recipients and this occurred at last weeks Bloom event for them.It is worth publishing for our club to see. Excellent. Thank you, Matt Weiss
St. Louis Rotary Bowling Alleygations - Week 26 | Matthew Maddox
Bowling Alleygations | Week 26 ~ March 14, 2022 | Matthew Maddox

We had another fun-filled evening of bowling, camaraderie and fellowship at Olivette Lanes!


During a tough matchup on Lanes 19 & 20 between my team (Team Maddox) and Team Lehmkuhl, I managed to bowl my highest game ever (221 scratch).


ROLLING FOR ROTARY CELEBRATING 100+ YEARS OF ROTARY BOWLING LEAGUE
Deadline Wednesday 3-23-22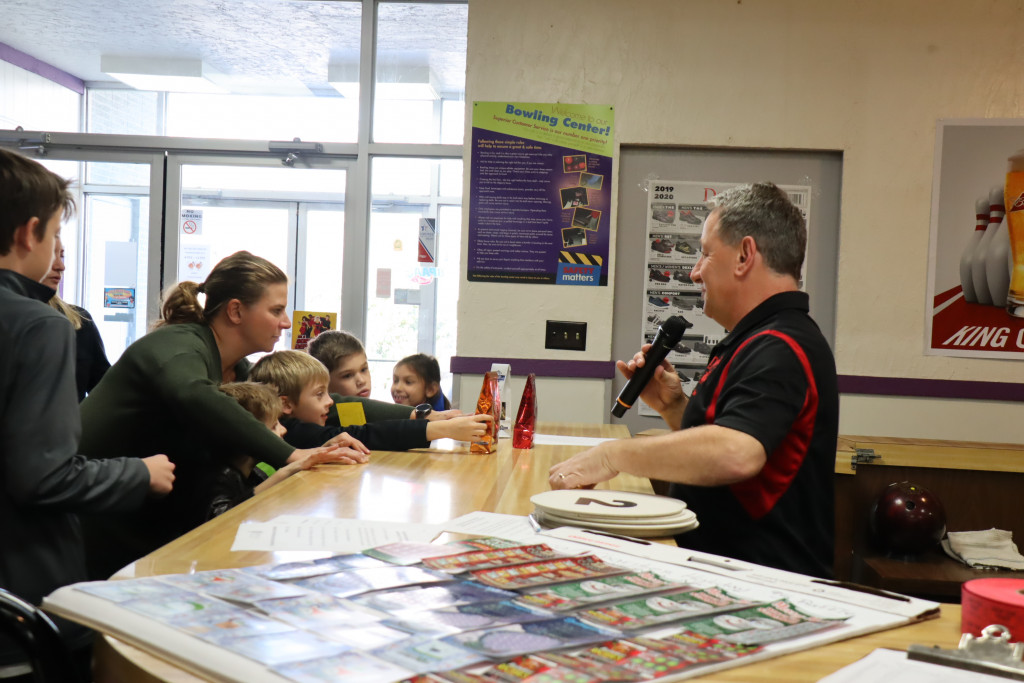 During our bowling fundraiser on Sun March 27th we will also have a silent auction. We are looking for items to be donated for the auction.




Suggestions include sports tickets, entertainment tickets, gift cards, theme baskets, any product or useful item that can be auctioned. Include a value with your donation and either bring to a Thursday Rotary lunch meeting or to Olivette Lanes by March 24th.

.
Fundraiser to Benefit the Welfare Fund Sponsor a Lane for $150. Bring your Family and Friends for 3 Hours of Bowling and Fun (includes rental shoes) SUNDAY, MARCH 27 NOON - 3 P.M. OLIVETTE LANES Not a bowler? Come socialize, have fun and support a good cause. Join us …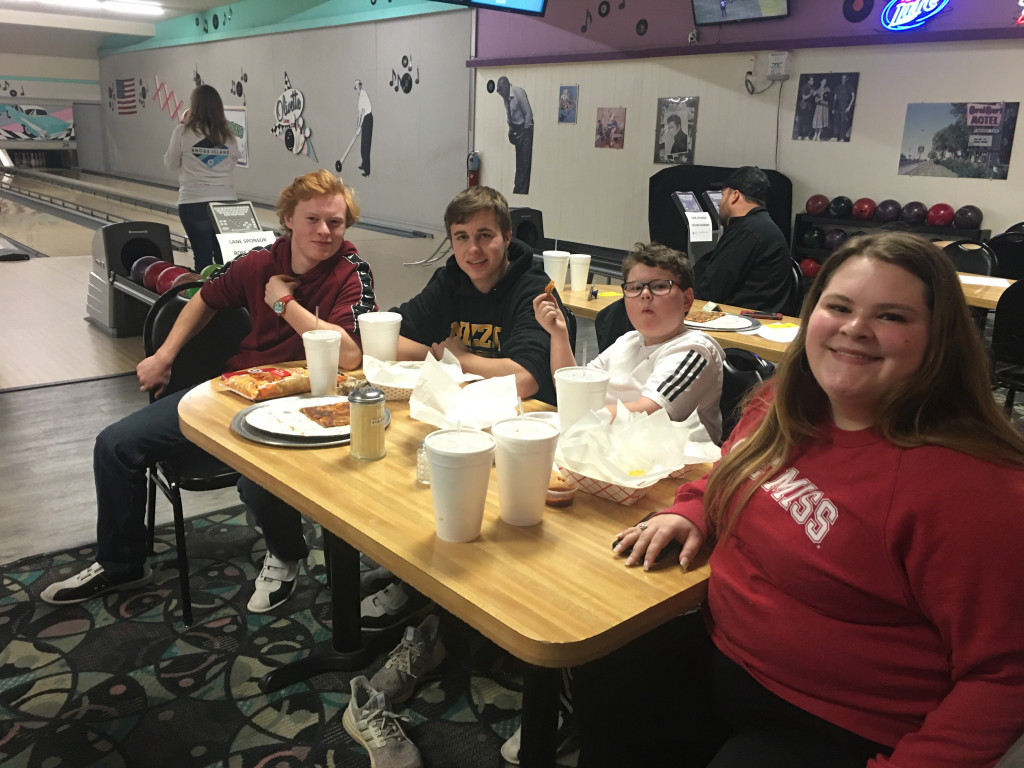 See You at The Frisco ~ March 24, 2022 | St. Louis Rotary Social
Join St. Louis Rotary Club at our March 24, 2022 Social. It's at The Frisco in Webster Groves. 63119 | 8110 Big Bend Blvd., Webster Groves, MO About 5 PM The Frisco


Charlie Brennan ~ Great St. Louis Clean Up | April 2, 2022 ~ Sign Up & Join Us!
Join us at we team up with Bank of American & Charlie Brennan for the Great St. Louis Clean Up Sign Up Here Bank of America and KMOX's Charlie Brennan are teaming up for The Great St. Louis Clean up in April. Our first project takes place in North County on Saturday April 2, 2022 at 8 am at two locations. …


St. Louis Rotary Canned Food Drive ~ March 2022
St. Louis Rotary Club is having a CANNED FOOD DRIVE ~ March 2022 Collection Dates are every Thursday in March 2022: March 3rd, 10th, 17th, 24th and 31st. Please bring your canned food donations to all of our March Rotary Club lunches.


Missouri Rotary Youth Leadership Academy (MO-RYLA) 2022 | Scholarships
St. Louis Rotary Club will be awarding two scholarships to The Missouri RYLA Academy 2022. Do you know a St. Louis high school student who would like to attend this? Application link is below. Talk to Michele Goad or Rose Cooper if you have questions.


ZOOM RECORDING | Greater St. Louis, Inc. | Jason Hall, CEO | St. Louis Rotary 3-17-22
ZOOM RECORDING ~ Jason Hall, Greater St. Louis, Inc. | March 17, 2022


GSL is dedicated to St. Louis' economic growth and prosperity as a global metropolitan region that expands economic opportunity for all. GSL formed through the combination of 5 organizations as of January …


Volunteer for 25th Annual St. Louis Microfest ~ Saturday, May 7, 2022
Volunteer for the 25th Annual St. Louis Microfest Saturday, May 7, 2022: Afternoon Session 12pm-4pm Evening Session 5:30pm-9:30pm All proceeds from the Microfest go to help Lift For Life Gym provide fun and healthy activities for inner city youth! Lift for Life Gym offers St. Louis city children a safe, enriching environment in which to strengthen their bodies, enrich their …


Events
Programs
Committee Meetings
St. Louis Rotary March 2022 Programs