March 3, 2022 Pepperbox Edition
TOP STORY ~

Thursday, March 3, 2022
Kelly Moore | International Institute of St. Louis, Director of Community Engagement
Kelly Moore completed a year in France as a Rotary Youth Exchange Student. She has a BA from Bradley University in International Relations and French. …
Attend the St. Louis Rotary Club Meeting on Thursday, March 3, 2022
Join us In-Person at the Missouri Athletic Club downtown or via Zoom on Thursday, March 3, 2022 from 12 pm - 1 pm.


St Louis Rotary Lunch Menu ~ March 3, 2022
St Louis Rotary Lunch Menu: March 3, 2022
Oven Roast Chicken Breast w/ herb Pan Jus ....


Order by 11:30 AM on Wednesday!


St. Louis Rotary Club Program Introducer & Invocator | March 3, 2022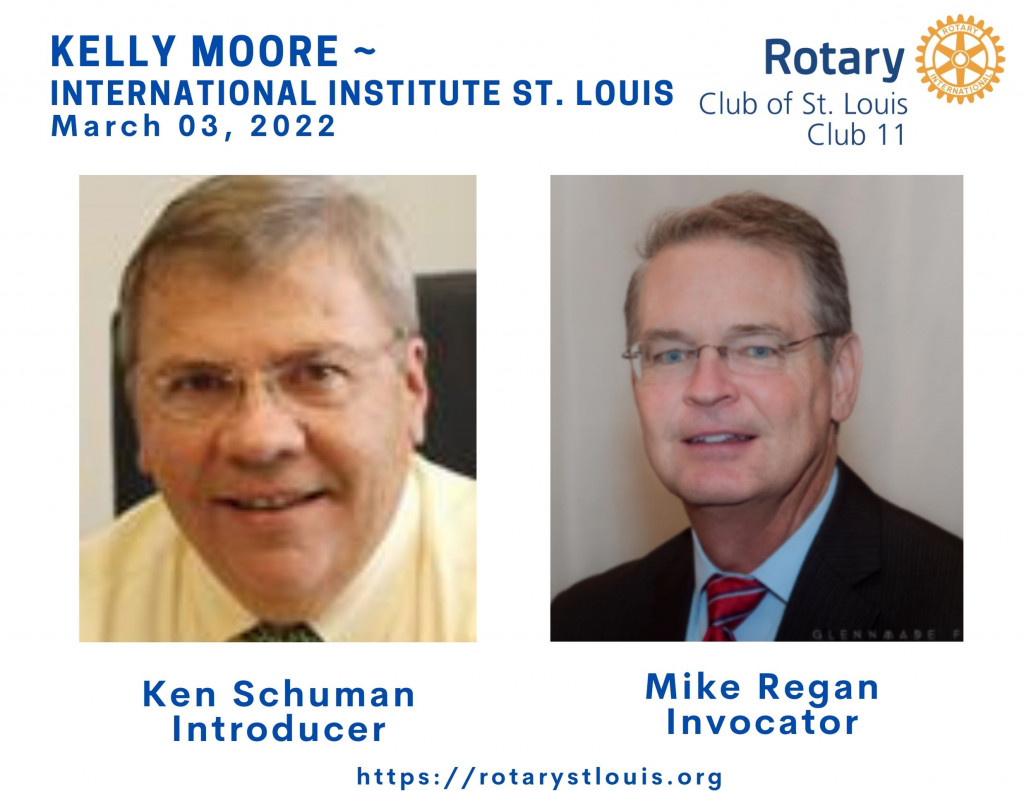 The St. Louis Rotary Club meeting onMarch 3, 2022 is IN PERSON and via ZOOM Read more
Social Was Rescheduled to
THIS THURSDAY,

March 3, 2022

~ Takashima Record Bar - On the Mezzanine!
Program Committee Meeting March 7, 2022
Program Committee Meeting ~ Monday, March 7, 2022 The Program Committee is meeting on Monday, March 7, 2022 from 12 - 1 pm - 4th floor, Veteran's Room at the Missouri Athletic Club Downtown. Please mark your calendars for our next program committee meeting.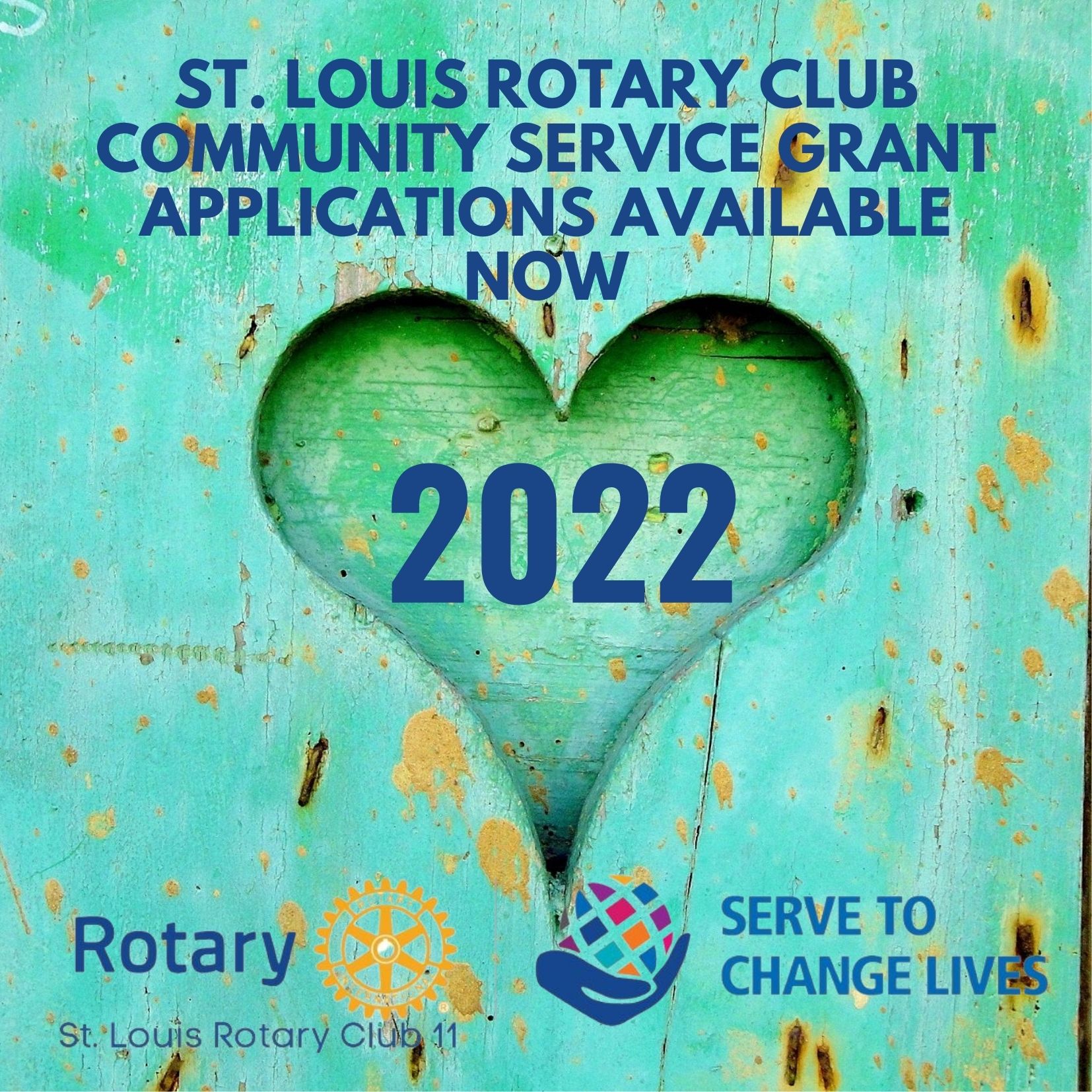 Each application must be sponsored by a current member of the Rotary Club of St. Louis. Rotarian Sponsor must support and sign the final application before submitting to the Community Service Committee Chairs. A Rotarian Sponsor may only sponsor one Financial Grant Application. Applications must be …
St. Louis Rotary Club 11 | 2022 Grant Guidelines and Application
Grant Applications are Available Now!
As a member of St. Louis Rotary Club, you may sponsor one (1) Financial Grant Application:


St. Louis Rotary Bowling Alleygations - Week 23 | Don Lorenz
Don Lorenz Bowling Alleygations
Week 23 ~ 02/21/22
What a difference a week makes at the lanes of Olivette. Rotarians walked in with high hopes and visions of perfect games. Well needless to say that didn't happen.


St. Louis Civilians at Mardi Gras 2022
St. Louis Civilians Satellite Club - Fundraising at Mardi Gras 2022 St. Louis Civilian club members Chad Baker, Rahman, and Terrell Davis and others at Mardi Gras 2022 in Soulard raising funds to help others!


St. Louis Rotary March 2022 Programs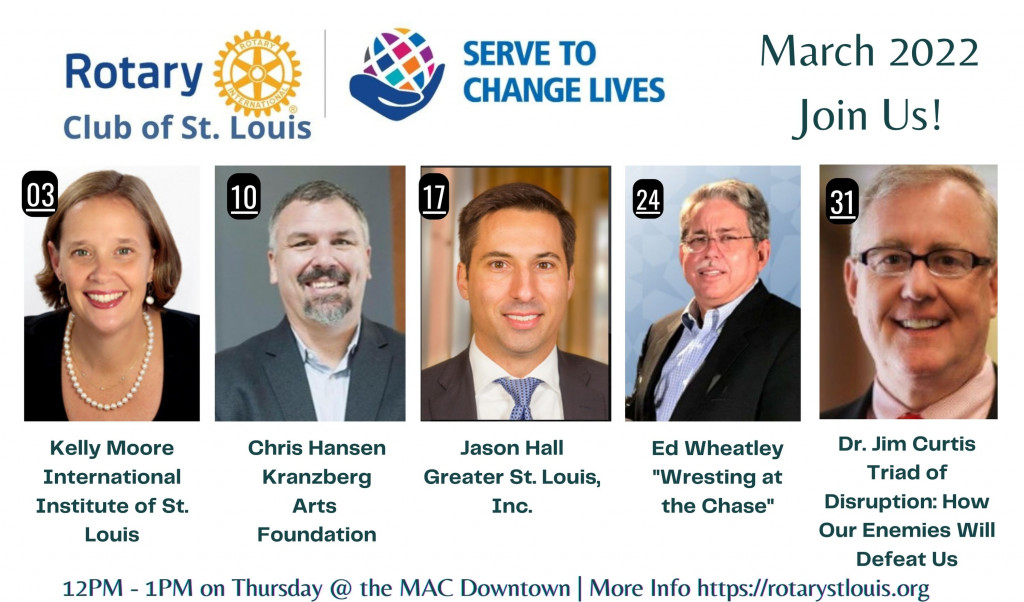 St. Louis Rotary Canned Food Drive ~ March 2022
St. Louis Rotary Club is having a CANNED FOOD DRIVE ~ March 2022 Collection Dates are every Thursday in March 2022: March 3rd, 10th, 17th, 24th and 31st. Please bring your canned food donations to all of our March Rotary Club lunches.


Rolling for Rotary | Celebrating 100+ Years of Rotary Bowling League | Sunday, March 27, 2022
ROLLING FOR ROTARY CELEBRATING 100+ YEARS OF ROTARY BOWLING LEAGUE Fundraiser to Benefit the Welfare Fund Sponsor a Lane for $150. Bring your Family and Friends for 3 Hours of Bowling and Fun (includes rental shoes) SUNDAY, MARCH 27 NOON - 3 P.M. OLIVETTE LANES Not a bowler? Come socialize, have fun and support a good cause. Join us …


Valerie Battle Kienzle | ZOOM RECORDING St. Louis Rotary February 24, 2022
IF you missed our meeting on February 24, 2022, here's a chance to see what happened!


Zoom Recording - Valerie Battle Kienzle, Ready to Wear: A History of the Footwear and Garment Industries in St. Louis, Missouri Enjoy watching the ZOOM recording and finding out more ...


Missouri Rotary Youth Leadership Academy (MO-RYLA) 2022 | Scholarships
St. Louis Rotary Club will be awarding two scholarships to The Missouri RYLA Academy 2022. This a 4-day, 3-night leadership training program focused on service for current high school freshman, sophomore and junior students across Missouri. It is held at University of Central Missouri in Warrensburg, MO. Do you know a St. Louis high school student who would like to attend this …


Events
Programs
Committee Meetings
Have you registered yet for the 2022 Rotary International Convention? It is in Houston, Texas from June 4 - 8, 2022. You can register with this link:


Important Dates 28 February 2022:


CLUB MEMBERS HOUSING OPPORTUNITY: Going to Houston for the R.I. Convention? Need a place to stay? Email Chad Baker - (member of our St. Louis Civilians Rotary Club) He may have a spot for you.
Books for Newborns Thanks St. Louis Rotary
Books for Newborns Thanks St. Louis Rotary Club for the Grant They Received in 2021 Here's A Report: Grant fully utilized over 8 ½ months from June 2021 to mid-February 2022 Retail Value of the Distributed Books: 2.5 times value of grant 1,026 copies of "Rock What You Got" distributed through 18 organizations in 25 locations across St. Louis metro …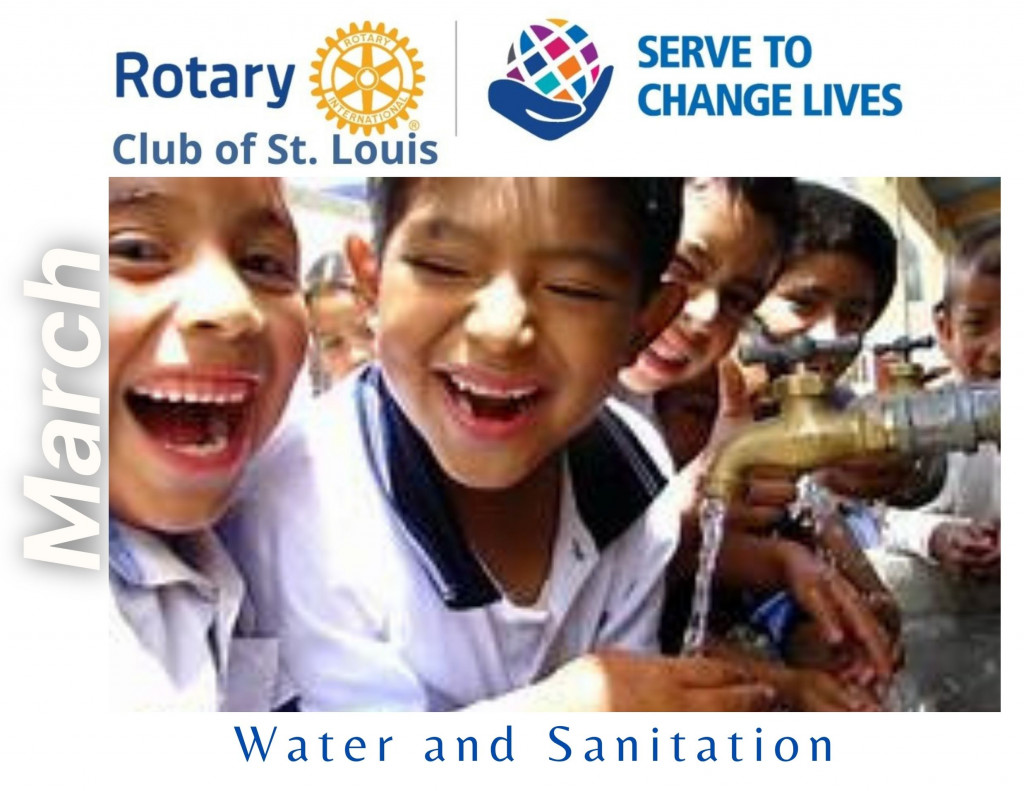 Rotary International's Focus in March is Water and Sanitation
Interested in joining St. Louis Rotary?

The Rotary Club of St. Louis meets on Thursday at noon the Missouri Athletic Club located at 405 Washington Avenue, St. Louis, MO 63102