December 9, 2021 Pepperbox edition
TOP STORY DECEMBER 9, 2021| Charlie Brennan, Author, Only in St. Louis!
"In
Only in St. Louis!, Charlie Brennan shares the most incredible, strange and inspiring stories he has come across in his three decades talking about the Gateway City. Readers will learn:Wilt Chamberlain was traded in a St. Louis restaurant.Jesus Christ Superstar was first staged in St. Louis, not New York.A St. Louis Cardinal pitcher beat Randy Johnson while drinking vodka.A St. Louis mayor was buried three times.Supreme Court Justices laughed aloud w/hile hearing a St. Louis case.

Read More>
President's Letter
Hello my fellow Rotarians!! It's me again, asking for another favor. By now I'm sure you have received a letter from Club 11 and me asking you you be generous in your contribution to the All In One Fund.
As you know, this is our annual appeal to raise money for local non- profit charitable organizations through our Community Service Grant Program.Last year because of your support, we were able to distribute over $66,000 to 18 worthy organizations in the St. Louis area. Know More>
St. Louis Rotary Club Program Introducer & Invocator | December 9, 2021
Charlie Brennan - Only in St. Louis! ~12 PM - 1 PM ~ December 9, 2021 - Jim Sheets, Introducer | Dale Ruthsatz, Invocator ~ JOIN US In Person at the MAC Downtown,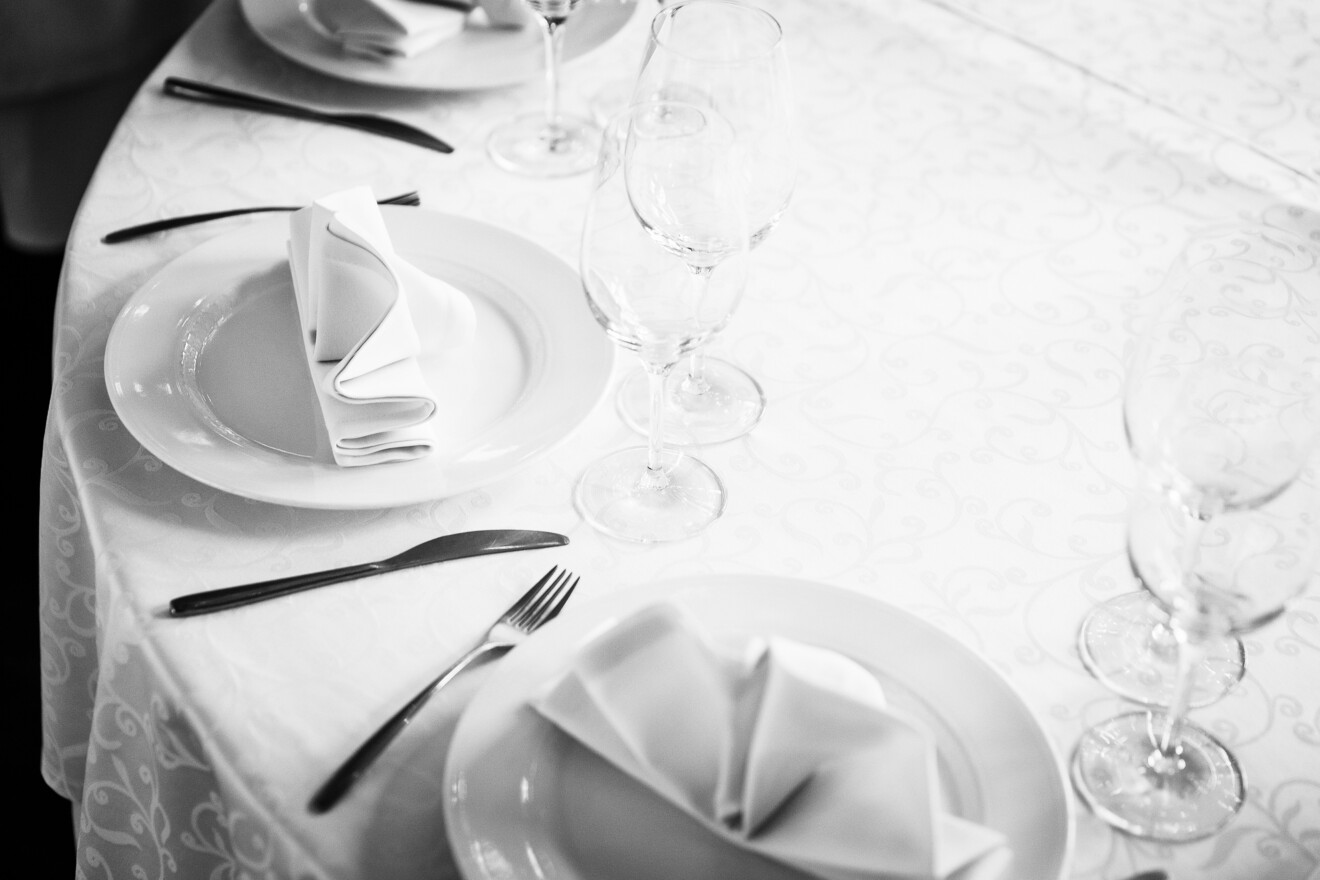 LUNCH MENU DECEMBER 9
, 2021
Ambrosia on leaf lettuce ~
Boursin Stuffed Chicken Breast...
...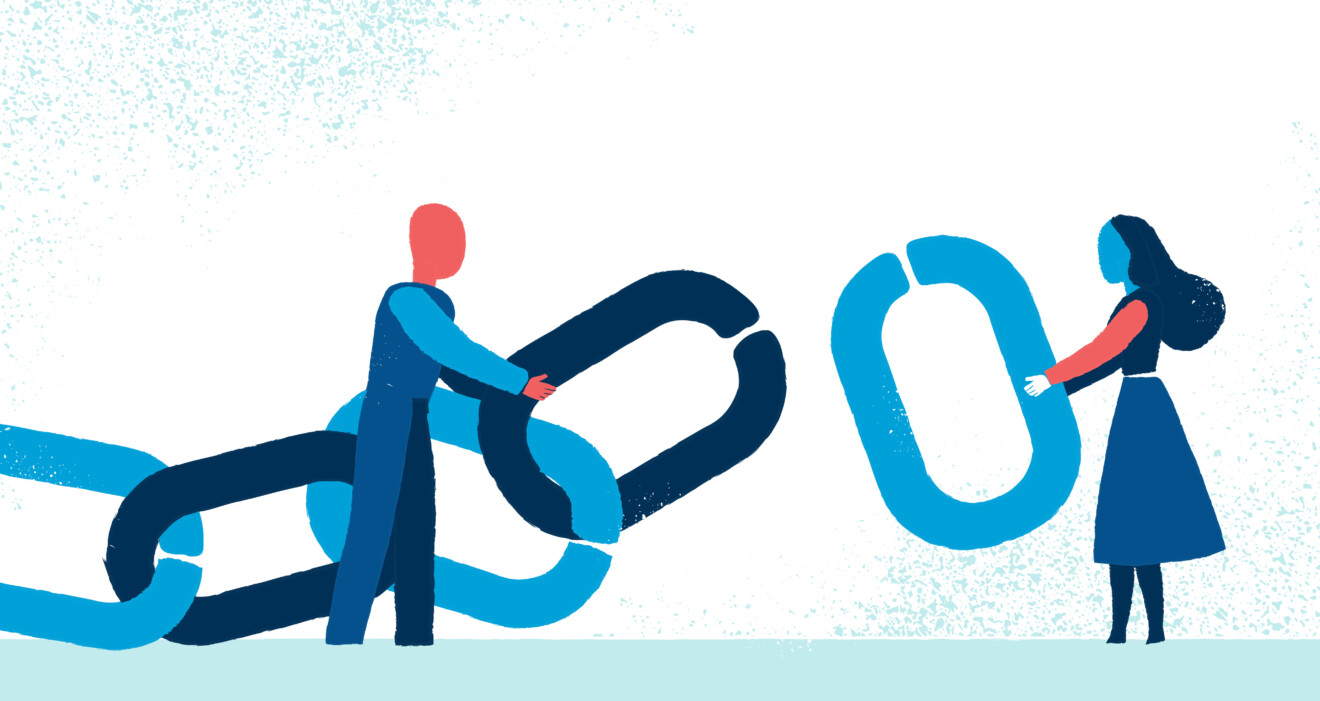 IN PERSON & ZOOM MEETING LINKS FOR DECEMBER 9, 2021
Join St. Louis Rotary Club members in person at the MAC Downtown, 405 Washington Avenue, 63102 from 12 - 1 PM on Thursday, December 9, 2021. We meet on the 2nd floor in the Missouri room.
Hesley Challenge Grant for Water Project UPDATED 12-5-21 | $9,850
This year, in conjunction with the Rotary Club of Meycauayan, Philippines, Club 11 is sponsoring a clean water and Hygiene project. This $40,000 project will provide clean drinking water for over 2000 students in five elementary schools. Phil and Carole Hesley have donated $10,000 and are challenging Club 11 Rotarians to match their donation. Rotary International will then match our $20,000 …


Bowling Alleygations | November 29, 2021 | Lenny Lehmkuhl
Bowling Alleygations Week 12| Monday 11-29-21 | Lenny Lehmkuhl
Bowling Alleygations week 11/29/21
The Oil Shipment maybe arriving any week now!
Dan Conway HS 658
Rose Cooper HS 676
Blake Critzas HS 672
Vic Di Fate HS 689
Bill Piper HS 654
Don Klackner HS 653
Carl Lane HS 637
Doug Lorenz HS 602
Matt Maddox HS 639
Lily Michaels HS 610
Pete Milne HS672
Ken Schuman HS 600
Kent Steinbrueck HS 642
Chri Wilson HS 600
NEXT WEEK: | The Apollo's of the MAC | December 16, 2021
Our Holiday Program is December 16, 2021 from 12 pm until 1 pm. The Apollo's of the MAC will be joining us. .
I wanted to thank our St Louis Rotary Club 11 on behalf of The Kaufman Fund for your support for our Veteran Warmup. We so much appreciate the help and support that Rotary gives us. We had a great event this year at St Patrick Center on Veterans Day. We were able to give 150 homeless Veterans brand new winter coats, gloves, hats, socks and toiletries to help get them through the winter months of December through February or March.
Read More>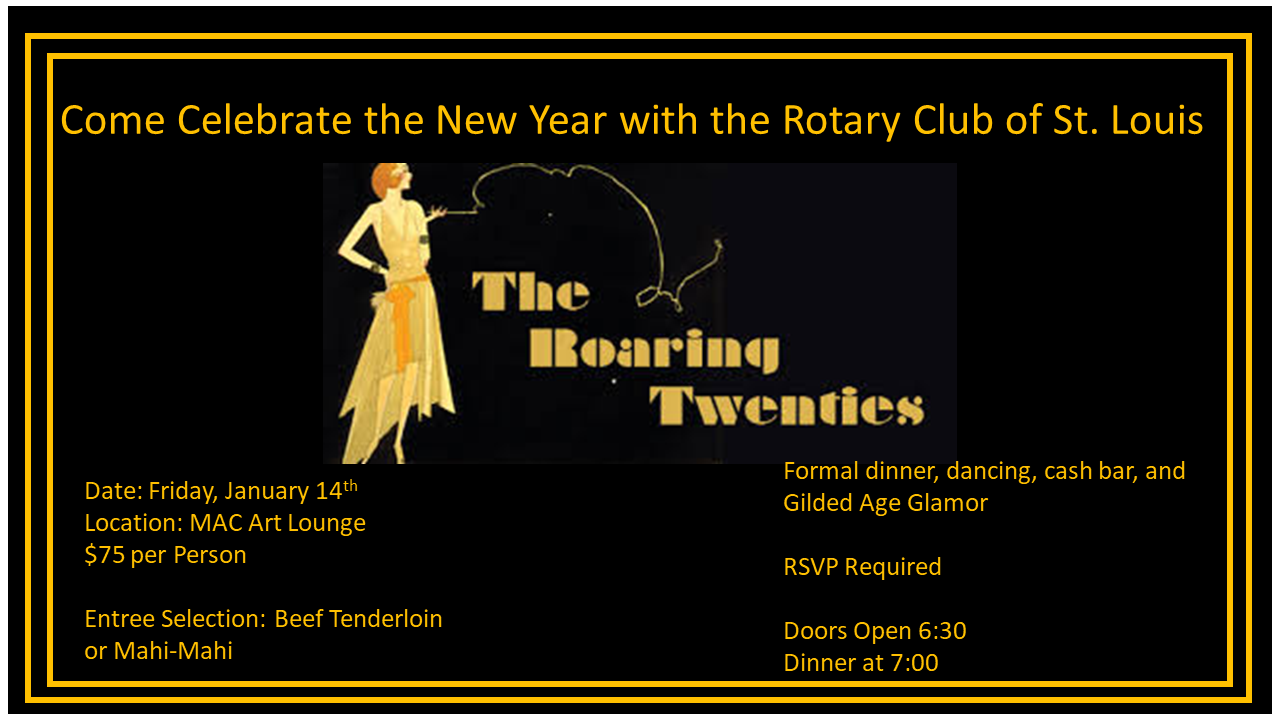 St. Louis Rotary Holiday Party ~ January 14, 2022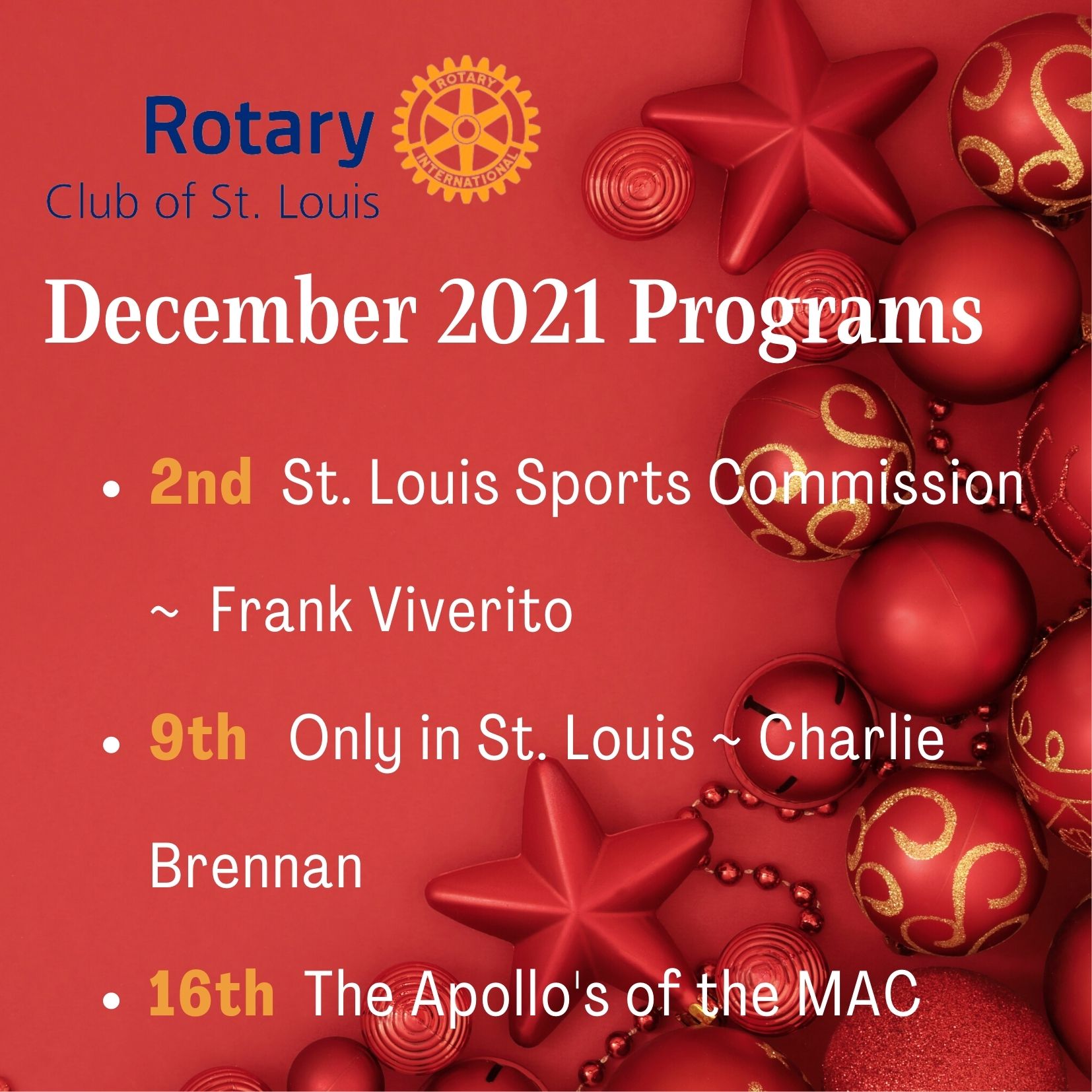 Ambassadorial Scholarships for 2022-2023

Do you know someone who would like to apply for the District 6060 Ambassadorial Scholarship opportunity for 2022 -2023?
Applicants must have completed their Bachelor Degree prior to submitting an application
The Zoom recording from 12-2-21 cannot be shared as the videos are in an agreement with CBS. It can be shared on 1-26-22. (30 days past the airing of the 12-25-21 event)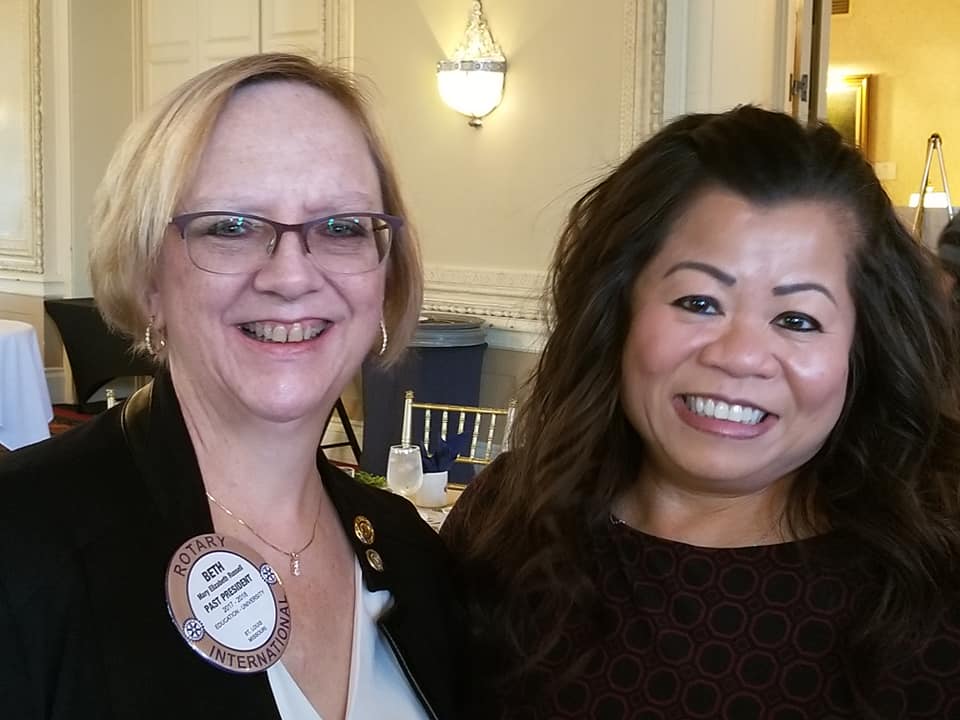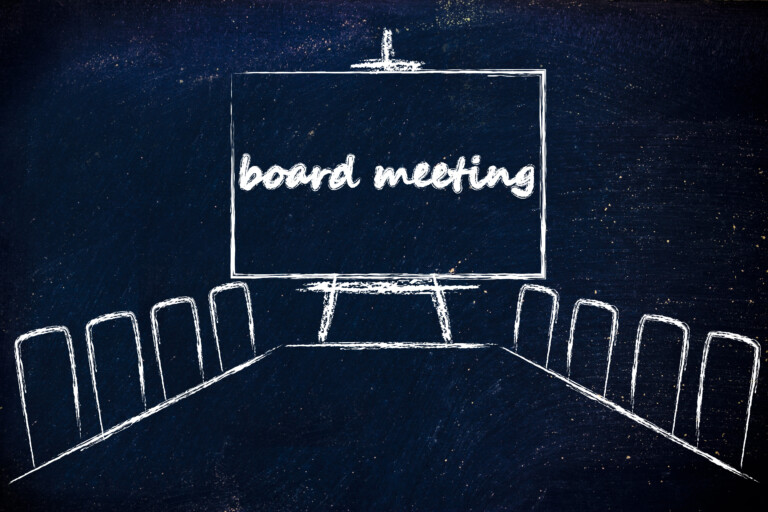 ST LOUIS ROTARY CLUB BOARD MEETING | DECEMBER 15, 2021
12 NOON at the MAC Downtown ~ Veterans Room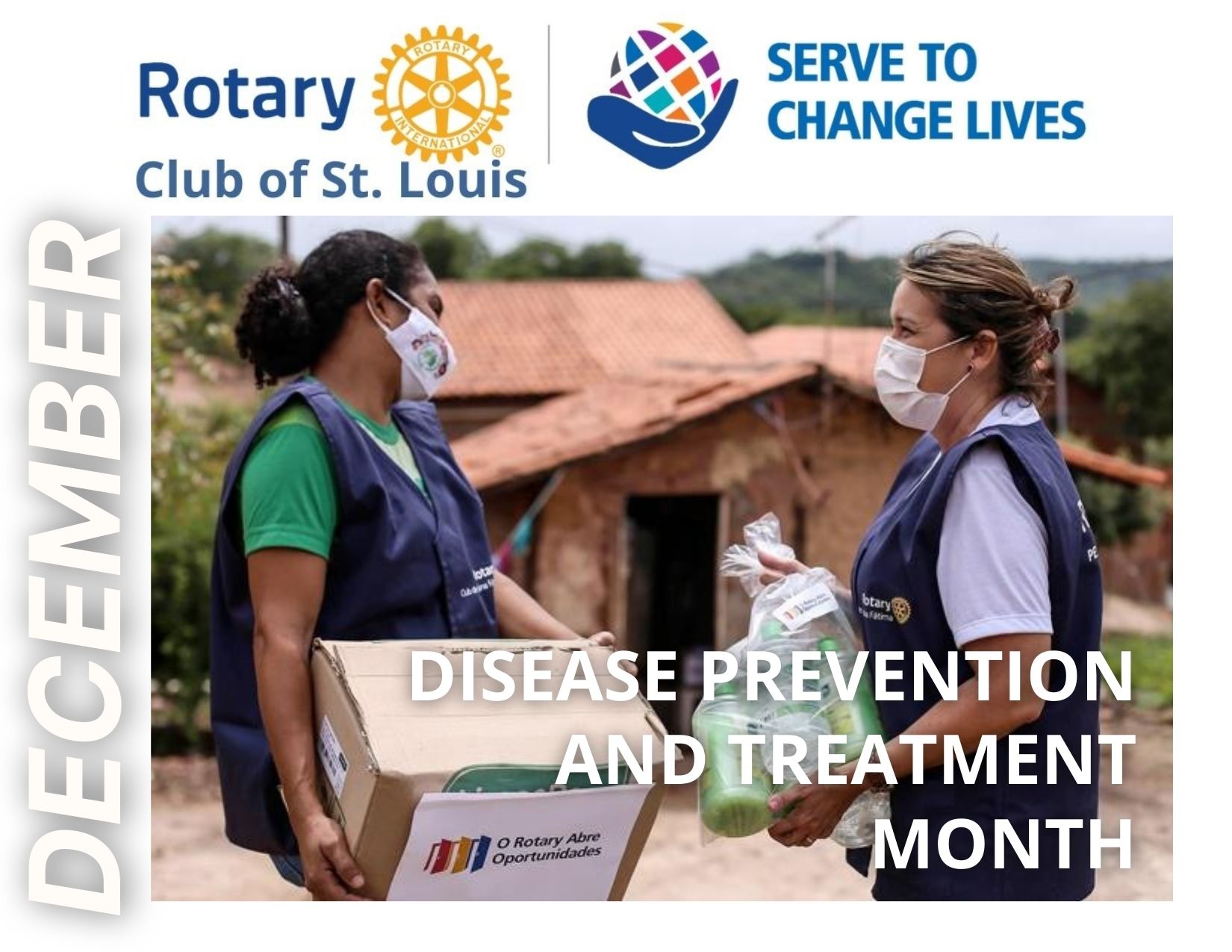 Disease Prevention & Treatment

is the Rotary International Theme for the Month of December.
Interested in joining St. Louis Rotary?

The Rotary Club of St. Louis meets on Thursday at noon the Missouri Athletic Club located at 405 Washington Avenue, St. Louis, MO 63102