TOP STORY | OCTOBER 28, 2021
Young Citizen Awards | Dr. Kelvin Adams | October 28, 2021
Our speaker on Thursday, October 28, 2021 is Dr. Kelvin Adams, Superintendent, St. Louis Public Schools.
Our annual Young Citizen Awards program is this Thursday, October 28, 2021.
We are honoring two junior high school students from 12 St. Louis Public High Schools.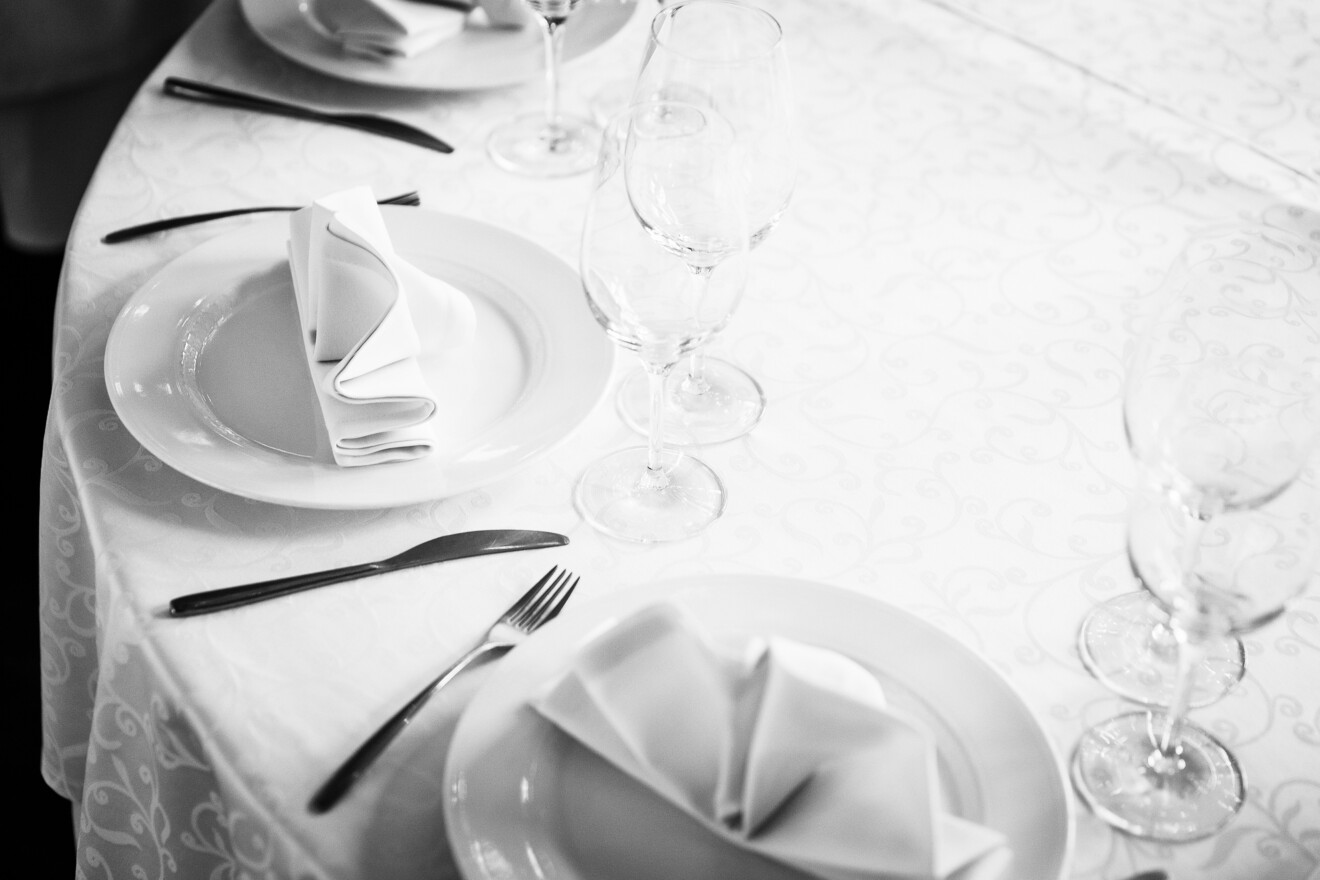 LUNCH MENU OCTOBER
28
, 2021
Oven roast chicken breast with herb pan jus
Buttermilk whipped potatoes...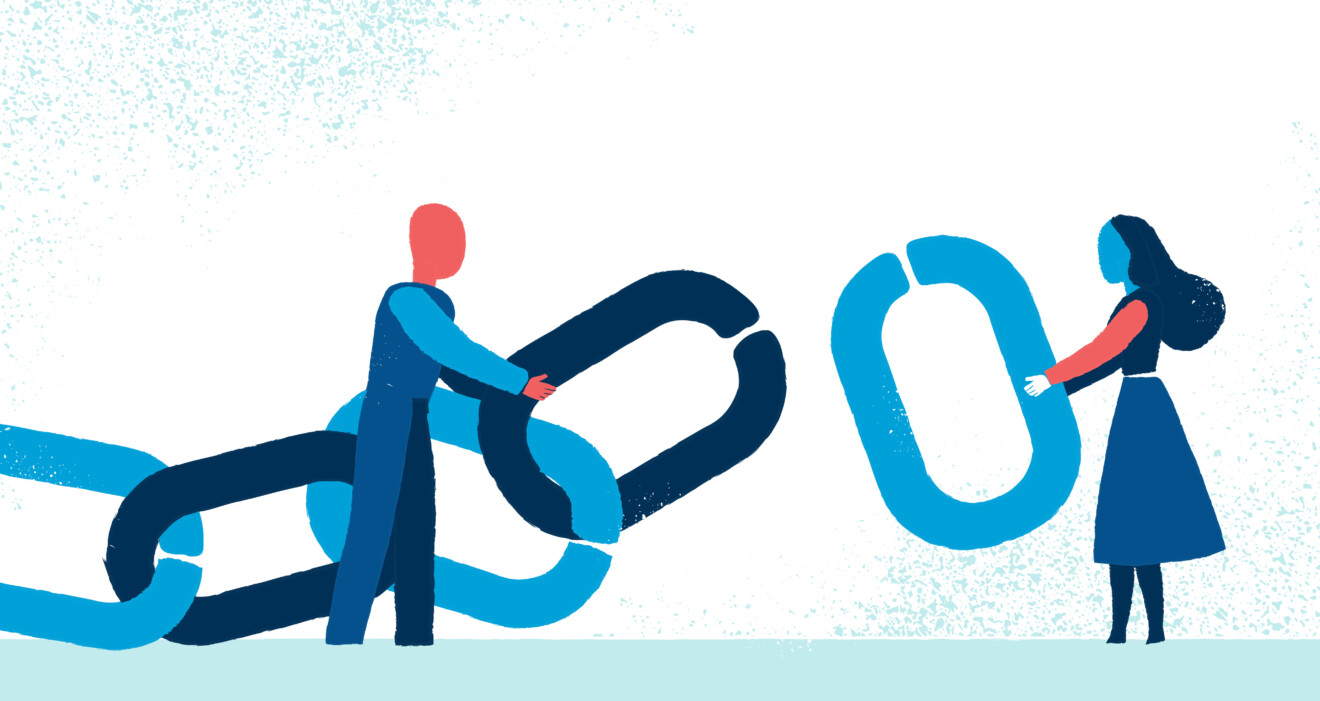 MEETING LINKS OCTOBER 28, 2021
Join St. Louis Rotary Club in person at the MAC Downtown, 405 Washington Avenue, 63102 from 12 - 1 PM on Thursday, 10/28/21 or by ZOOM!
LETTER FROM THE PRESIDENT
Greetings my fellow Rotarians. First of all I would like to thank for attending the Thursday meetings in person. We experienced overload attendance the past two weeks. On that note, I would ask that you please take a moment to register your attendance with Joan..

.
Isabella R Lewis, Interact & RYLA Alumni | Opportunities ... | October 25, 2021
As a sophomore, I joined my school's Interact club after attending a Rotary district conference. At first, I was a little apprehensive about going into it. I quickly learned how much of an uplifting and positive environment Interact is. I also quickly learned that I had a passion for volunteering. Through Interact I was not only able to meet many …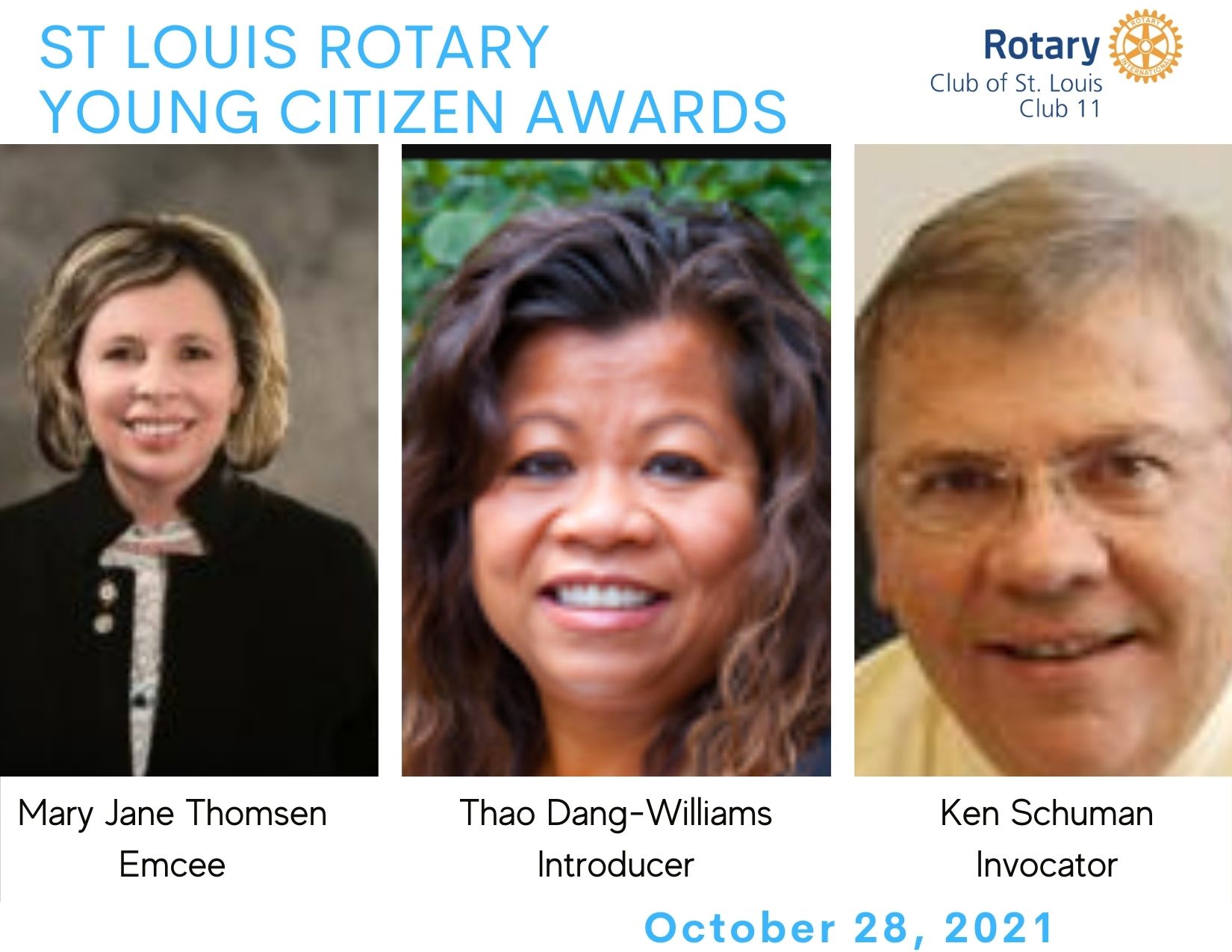 MARY JANE THOMSEN, MC
, THAO DANG-WILLIAMS,
INTRODUCER & KEN SCHUMAN, INVOCATOR ON THURSDAY, OCTOBER 28, 2021
AT ST. LOUIS ROTARY
Hesley Challenge Grant for Water Project
This year, in conjunction with the Rotary Club of Meycauayan, Philippines, Club 11 is sponsoring a clean water and Hygiene project. This $40,000 project will provide clean drinking water for over 2000 students in five elementary schools. Phil and Carole Hesley have donated $10,000 and are challenging Club 11 Rotarians to match their donation. Rotary International will then match our $20,000 …


Need Coats, hats, gloves, etc for Pre-K through 12th Grade. Bring them to Rotary on Thursday!

There are currently

3,569

students in the SIT program! SO THE NEED FOR COATS IS HUGE!


If you prefer to make a monetary donation, the Coat Committee will shop for these items for you. The drive is extended until October 31, 2021
Bring NEW or LIKE NEW KIDS COATS to St. Louis Rotary this Thursday, 10-28-21
St. Louis Rotary Club Coat Drive to benefit the St. Louis Public Schools Students-In-Transition (Homeless Services) Program is ending this weekend!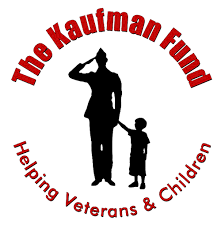 St. Louis Rotary Club members are welcome to attend and to observe or participate as you wish...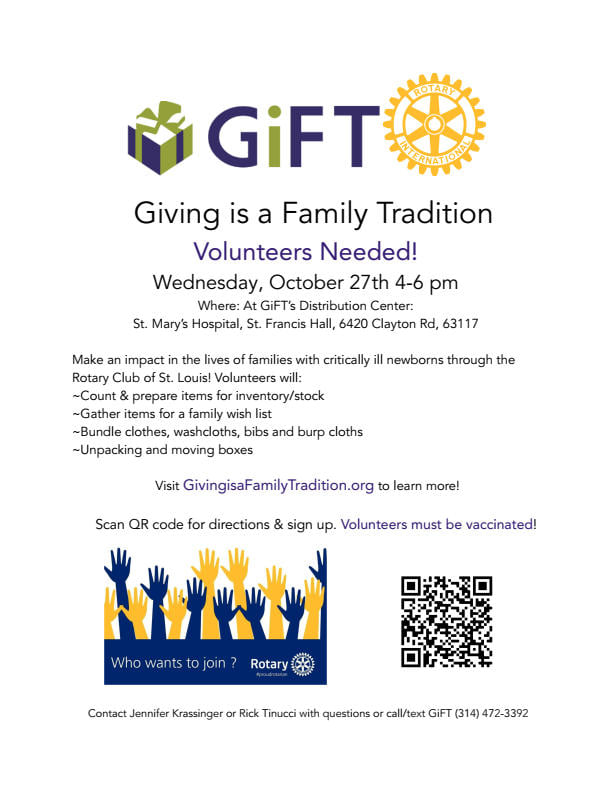 VOLUNTEERS ARE NEEDED AT GiFT on Wednesday, October 27, 2021 4pm - 6pm
LEARN MORE
Perennial on Lockwood | St Louis Rotary Club Social | 10/28/21
Our next club social is on October 28, 2021 at Perennial on Lockwood, located at 216 W. Lockwood in the heart of Old Webster. They are a small batch brewery, tasting room, and restaurant located in the heart of Old Webster Groves. "Perennial on Lockwood is a collaboration between Olive + Oak and Perennial Artisan Ales offering ...


ST. LOUIS ROTARY CLUB PROGRAM COMMITTEE MEETING
Monday, November 1, 2021
Larry Lunsford, Past RI Director | The Rotary Foundation | November 4, 2021
Larry A. Lunsford
Trustee 2021-25
Rotary Club of Kansas City-Plaza
Missouri, USA
Larry A. Lunsford, a certified public accountant, is senior vice president and chief financial officer of Bernstein-Rein Advertising, Inc. A recipient of bachelor's and master's degrees in accounting from Truman State University, he has served his alma mater on its National Alumni Association Board and its Foundation Board. He also served as treasurer of the Epilepsy Foundation for the Heart of America.
You Are Invited to
Live Event to Launch Raffi's TV Show | Raffi Andonian | November 4, 2021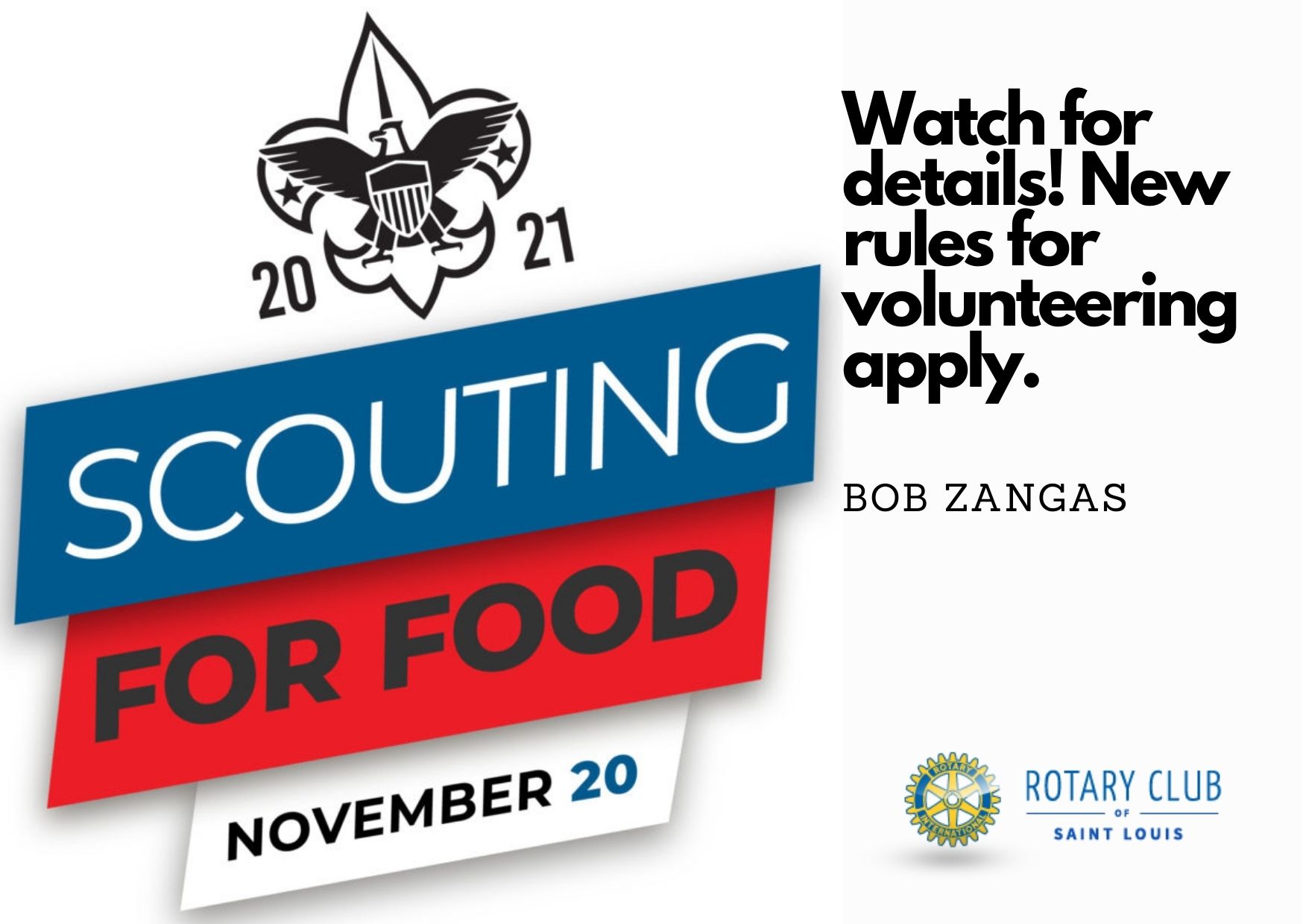 Scouting for Food Collection Day is November 20, 2021. See Bob Zangas to sign-up to volunteer sorting incoming food for the Scouts.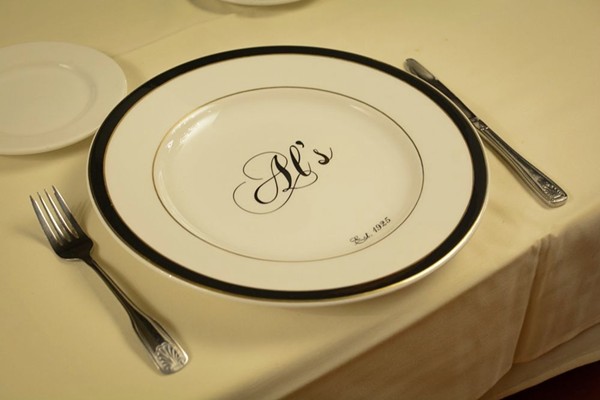 Congratulations to Pam Neal & visiting Rotarian J. Gary Neal for the wonderful write-up on Al's Restaurant that is in the Riverfront Times 10-21-21.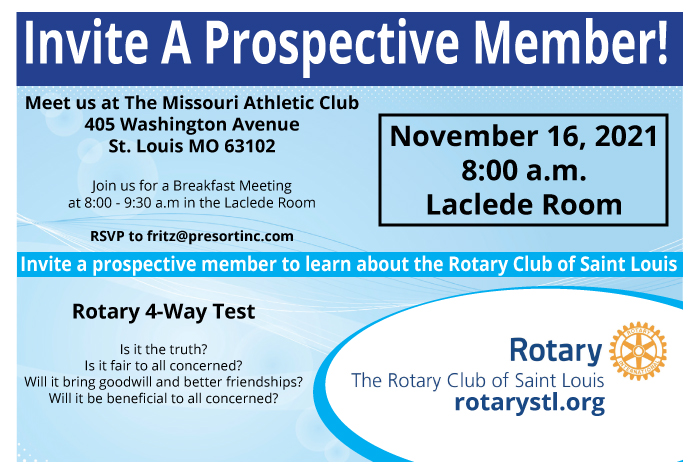 The Rotary Club of St. Louis meets on Thursday at noon at the Missouri Athletic Club located at 405 Washington Avenue, St. Louis, MO 63102. https://rotarystlouis.org