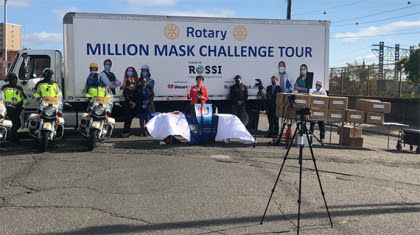 A 26-foot truck, emblazoned on all sides with the Million Mask Challenge Tour
message, distributed face masks to Rotary clubs throughout New England.
By Robert Friend, Assistant Rotary Public Image Coordinator for Zone 32
In the early morning of 29 September, a cargo ship carrying 800,000 face masks arrived at the Port of Boston. Over the course of the following 14 days, those masks were delivered to first responders, healthcare providers, and frontline workers in cities, towns, and villages across New England.
This is a story of service and leadership. It's a story of how our District and Zone responded to a crisis, rallied its resources, put boots-on-the-ground to bring disparate and far-flung communities together to spread goodwill. Most importantly, it's a story about working together and using our collective professional backgrounds through the Rotary network to make a difference. Read more of this post