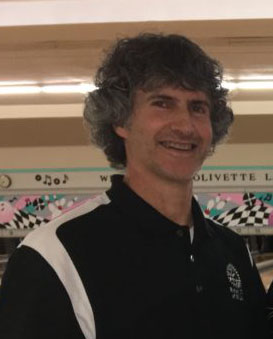 ALLEYGATIONS- 03/09/2020- David Cowell
The top two teams heading into the evening squared off on Lanes 19 & 20 with Team Conway leading Team Cooper by a single point. Team Conway had a full roster with Jeannine Conway, Mike Borough, Carl Lane and Bob Zangas taking on Matthew Maddox and Arnold Hadler from Team Cooper. Wes Hadler, Arnold's grandson, decided to stay and bowl with Arnold. A future bowler for next season? Team Conway took the first match but Arnold and Matthew came back to take the last two and total for a 15-7 win. This should make their Captain Rose happy and keep Matthew out of the middle of Olive Street Road courtesy of a hip check from Aunt Rose! Where was Rose? Matthew said she was at Spring Training in Florida. I heard they shut it down after her visit! Captain Dan was also missing from Team Conway. Jeannine said she wasn't sure where he was, "probably hanging out with his girlfriend"? Dan, you better show up the rest of the year!
The real bowlers for the evening were on Lanes 21 & 22 with Team Soifer taking on Team Lorenz. I said going into this quarter that my money was on Lorenz for the 4th quarter as they spent the first two quarters hanging out with us near the cellar, finishing 4th and 5th, and were 5th again for the 3rd quarter. I figure this puts them in a prime position for a run at the 4th quarter title. Katie LaMarsh led the way for Lorenz (676 handicap) as they took 14 points. Don Klackner after rolling his average (178) the first two games finished with a nice 225 in Game 3 to help the cause. Pete Milne, Vic DiFate, Adam McNutt and Pete Milne were all above average for Team Soifer but it was not enough as they lost one game by 4 pins and total by 10. Kudos to these two teams for fielding full rosters!
It was a quick night down on Lanes 23 & 24 as Team Cowell (Jennifer Krassinger, Bob Barnes and myself) took 21 from Ralph Decker. It was Team Decker but Ralph had to go it alone and did not have a Ralph kind of night. Ralph attributed his lackluster performance to a Sunday of raking gumballs from his acre lot. Those sweet gum trees are pretty in the fall but a pain to clean up. No excuses, though, Ralph! None of the 8 bowlers, four bowlers and four blinds, could find their average but Team Cowell was good enough to beat the blinds and get the points. Matt Weiss, who split with fellow blind Gary "Doc" Jones, yielded the only point to prevent the shutout.
Once again, future Rotarian Ken Schoen took home the 50/50 – $31. Let's get those tickets mixed up a little better next week!
Speaking of next week, it will be Bowler Appreciation Week with a complimentary Mexican Buffet, discounts, bowling games with prizes (over average, mystery score and beer frames) and Tequila shots (on your own). A good reason to come out even if you are scheduled to be on the bench!
Nice job on attendance! But next week let's fill the house at Olivette Lanes!