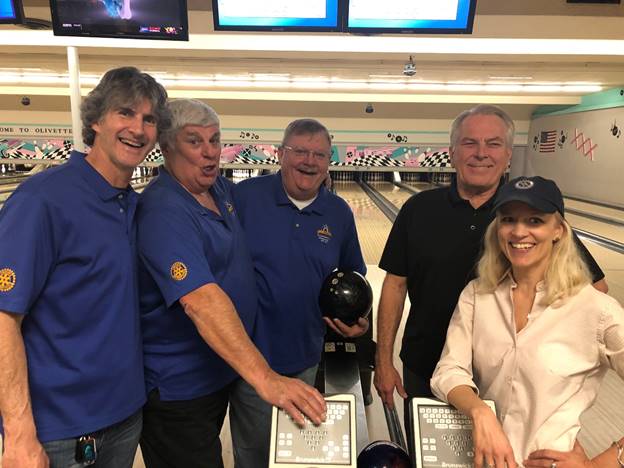 Team Cowell~ 3rd Quarter Champs: David Cowell, Matt Weiss, Steve LaFara, Jennifer Krassinger, Don Lorenz, Bob Barnes
Congratulations to Team Cowell for winning the 3rd quarter of the Rotary Bowling League.  They started the night in second place and took the fight to Team Decker winning 16 – 6 taking 1st place by 9 points overall.  Ralph Decker exacted a bit of revenge in the third game by bowling a 237 and winning the game but it wasn't enough to salvage first place.  Team Cowell was missing "The Legend" Don Lorenz, who is off golfing in Phoenix, so they brought in their secret weapon Jennifer Krassinger who had a career night bowling a 665 handicap series and basically carrying Team Cowell to victory.  (Since Don L was not available, and they needed a Lorenz in the team picture, I filled in, ).
In the other matches, just as in the championship match, the lower ranked teams all beat the higher ranked teams and swapped positions.  Team Cooper beat Team Conway 18 – 4  to take 3rd overall for the quarter.  Arnold Hadler had a 634 handicap series and Rose Cooper had a 641 series.  Bob Zangas led team Cooper with a 634 handicap series.
In the battle for the basement, Team Lorenz beat up on Team Soifer 21 – 1 and that moved Team Lorenz from 6th place up to tied for 4th place with Team Conway.  Both teams had only 3 bowlers.  Team Lorenz used a different strategy of having one hot bowler per game.  Katie LaMarsh led off the night with her highest game ever a 156 scratch for a 245 handicap game.  On the night Katie had a 665 handicap series.  Nice bowling Katie.  Then in game two Doug Lorenz bowled a 224 scratch and a 279 handicap game to lead Team Lorenz to the second game win.  In game 3 Don Klackner stepped up with a 222 scratch and 243 handicap game to take game 3. 
Notable games:
Ralph Decker      237
Doug Lorenz       224
Don Klackner      222
Steve LaFara       218
David Cowell      217
All in all everyone had a fun night and now as hard as it is to believe we are on to the 4th quarter.  Thus far we've had 3 different teams win each quarter.  Teams Cooper, Soifer and Lorenz are hoping the trend continues and one of them will win the 4th quarter.
Doug Lorenz