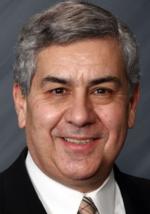 Merry Christmas, Happy Hanukkah, and Season's Greetings Club 11. I hope you're well into the holiday spirit and/or spirits !
With last minute shopping, parties with friends, and preparations to be with family, we don't have much time to think about Rotary. But, we don't have to forget about Rotary, either.
There is still time to make a year-end gift to Club 11's Welfare Fund and to the Rotary Foundation.
Also, there's an opportunity, as you enjoy holiday get-togethers, to share with friends and new acquaintances your special Rotary experiences as well as all that this organization does for the community. Who knows, you might be inspiring someone to be a Rotarian!
Congratulations to the newly elected Officers for 2020-21: Kent, Jack, Matt, Motown Mike, Bill, Dan, Mike, Coach, Rebecca. With this group in the lead, we can keep the Club's positive momentum going!!
President Bob
P.S. I hope I've been good enough this year that Santa and Jim Cavanagh will excuse my "faux pas" last week.
Jim Cavanagh – Rotary/Broadway Truck (not be confused with Jim Kavanaugh – World Wide Technology/MLS) is a member in good standing with Club 11. We hope to see Jim C soon at one of our luncheons. Sorry Jim C.