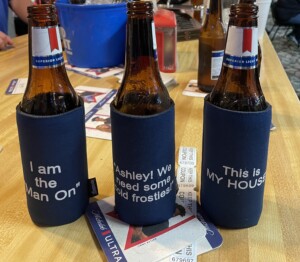 Bowling Alleygations Week 17
Highlighted Bowler of the evening:
Bob Barnes has been bowling in the St. Louis Rotary Club Bowling League since 1964.
His fan club was cheering him on Monday night!
Wearing his new bowling shirt and having a good time!
The Newsie shuffle was on his game!
Team Weiss came prepared with all necessary bowling equipment, most importantly their koozies!!!
50/50 Results:
Don Fuller won the 50/50. He went home with $46.00 dollars.
For those who missed Ralph Decker's joke of the night over the PA system:
"I told Terry Werner that I was going to tell a good joke tonight, and Terry said…SPARE ME!" Ralph Decker
High Handicap Series for Week 17:
Jack Windish – 645
Rose Cooper – 635
Terry Werner – 630
Richard Warriner – 629
Dee Baebler – 627
Dan Scott – 619
Ralph Zuke – 608
Don Klackner – 607
Bob Zangas – 606
Current Standings for 3rd Quarter:
1st Werner – 42
2nd Lorenz – 38
3rd Milne – 36
4th Conway – 32
5th Weiss – 32
6th Soifer – 18
Rolling for Rotary Fundraiser on Sunday February 19th from 12 pm to 3 pm at Olivette Lanes:
We hope to see many Rotarians (and their family and friends) at the upcoming Rolling for Rotary fundraiser, on Sunday 2/19 from 12 noon to 3 PM @ Olivette Lanes. We will be celebrating 100+ years of the Rotary bowling league and raising funds for the Welfare fund! If you would like to sponsor a lane for $175 (up to 6 players), please let Don Klackner or Joan Hecker know. Please see more details in the Pepperbox.
ALL are welcome to join our bowling league (which happens to be the oldest bowling league west of the Mississippi!)
Trust me the fellowship and competitive fun are both top notch! If you interested in joining the bowling league or if you know someone else who might be interested, please reach out to Ralph Decker ralph_decker@sbcglobal.net or Matt Weiss harry_weiss73@yahoo.com (Note: You don't have to be a member of Rotary to join the bowling league.)
I am truly looking forward to the rest of the bowling season with my fellow Rotarians and friends!
Strikes and spares,
Matthew Maddox