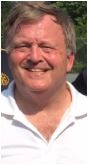 This past Monday's bowling started out with a country flair with Beth Russell showing off her singing and dance move's to John Denver's "Thank God I'm a Country Boy".
The team Conway versus team Cooper matchup featured three lady bowlers. Jeannine Conway (hdcp series 643) and Doug Russel (hdcp series 601) bowled two strong games in game one and two and with a strong game by Kent Steinbrueck (hdcp series 603) in game two proved too much for Rose's team. Rose Cooper (hdcp series 613) also had strong games in games one and two with a strong game by David Wicks and with a strong game by Arnie Hadler in game three salvaged the night for Team Cooper who finished with 6 points and Conway 16 points.
Over on lanes 21 & 22, Team Decker and Cowell were going at it with Ralph Decker and David Cowell going head to head. Bob Barnes had a great night bowling a 657 hdcp series but was out done by Ken Schuman who bowled a 704 hdcp series. Gary Jones was on Fire and was recorded bowling over 27 mph as the new equipment was still getting trouble shooted. Ken Schuman had a 6-10-7 split and asked his Captain Ralph Decker for instructions which were followed to a "T" with Ken picking up the split and finishing up with the best hdcp series of the night. Team Decker ended up with 16 points to Cowell 6 points.