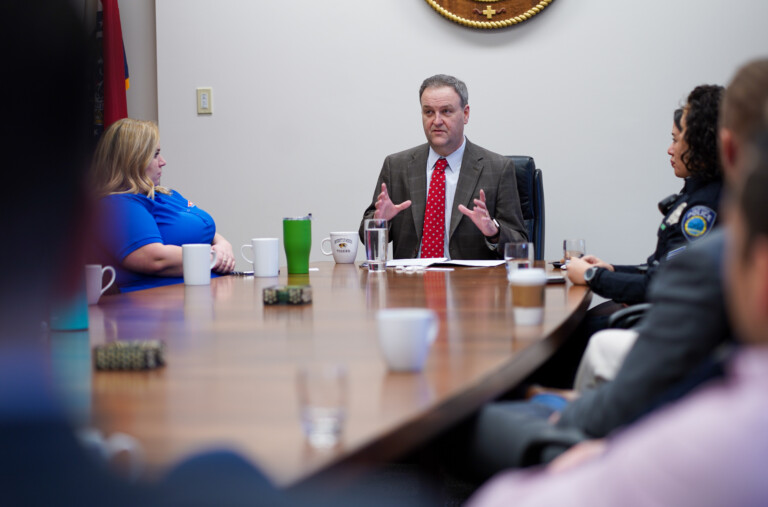 Dr. Sam Page's political career began in the Missouri House of Representatives where he served from 2003-2008 representing part of St.Louis County. In August 2014, Dr. Page was elected as the District2 councilmember on the St. Louis County Council. Dr. Page was re-elected in 2016. In 2017, he was voted Chairman of the County Council and, in April 2019, he was elected St. Louis County Executive. Prior to being elected County Executive, Dr. Page was a practicing anesthesiologist for more than 20 years. He took a leave of absence from his medical practice in order to take on the full-time County Executive role.
Dr. Page earned an undergraduate degree in Chemistry while working his way through college. During that time, he spent two years working in the hazardous waste management department of University of Missouri – Kansas City (UMKC). He received his Doctor of Medicine from the UMKC School of Medicine where he was selected to Alpha Omega Alpha medical honor society. Dr. Page completed a residency in anesthesiology at Northwestern University and a fellowship in Pain Management at Washington University in St. Louis.
Dr. Page is a Past President of the Missouri Society of Anesthesiologists and the Missouri Society of Interventional Pain Physicians. He has served as the Cubmaster for Cub Scout Pack 499, and currently is a Merit Badge Counselor for Citizenship in the Community for the Greater St. Louis Areas Boy Scouts.
Dr. Page lives in Creve Coeur with his wife, Dr. Jennifer Page. They have three children, Logan, Luke and Jake